UBE Service
UBE Service are able to offer you skilled, reliable engineers for a range of tasks :
Short term engineering cover if your engineers are indisposed;
Project assistance;
Event staffing needs;
Team leadership;
Broadcast system design;
Systems Integration;
Special projects.

What ever a radio station needs we can help you!
For instance, recently City FM in Liverpool needed to upgrade the lighting in their exterior signage. Sounds like a simple task but as you can see from the photo below, City FM is located at the top of a 450ft tower.
We replaced the original fluorescent lighting with high intensity LED arrays. This has reduced maintenance to virtually nothing and reduced running costs by about 80%.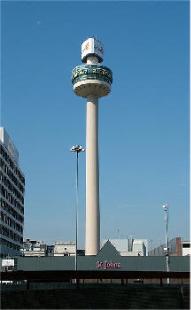 For many years now we have been involved in the maintenance and building of broadcast studios.
Studio upholstery can often date a studio and become stained or torn through general wear and tear. We are experts at breathing new life in to old studios and are able to replace the wall coverings in any studio for a lot less than you would imagine!

Complete studio refurbishment, professionally managed, including furniture, ceilings, wall coverings, window reveals, skirting, carpets and more are all part of the service. We can provide a seamless service and carry out a studio refurbishment at the same time as upgrading the technical infrastructure.
We are also able to design and build new studios or undertake alterations. All aspects of planning, building regulations, electrical systems, air conditioning and fire alarm regulations are all dealt with in-house. In addition door entry systems, alarm systems, PA systems, CCTV, RF distribution, structured cabling and much much more!
Skilled, trained and reliable engineers are available from only £200 per day.
Do these credentials inspire confidence in our abilities to help you? If so please ring us now on 01242 511807 or please click on the

button or click the contact us link now.